甘川文化村
Gam Cheon Culture Village
想看看五颜六色的文化村,可到甘川文化村. 这里除了五颜六色的景色, 还有这里的居民都很亲切~ 来到这里乱走, 因为这里的地图要买,所以我就打算走到哪儿就那儿~ 其实这个村不会很大, 也不会迷路,只要跟着一路上的壁画,颜色走,一定会走出来. 有些壁画还很隐秘哦!
看到地图就拍,迷路时可用到~
When reach here, saw a map beside,and snap it for future use.

(maybe I lost inside Gam Cheon Culture Village can be use)
一路上, 这村很多颜色~
There alot color on the wall
这景色很出名,很多人都在这里拍照~ 不过我来时没人

*LUCKY*


This is the place where many people snap picture, But that day no people

*LUCKY*
全景
The view here
看呆了哦
Attracted me alot!
有些地方还有路牌, 不过你看得懂吗??
There also many sign board to see, But some no english do you know where is it?
经过这里你会看到
When you reach here.
这个是人吗? 她在睡觉?
you will see this aunty sleeping.
进去看真点! 原来是假的!!

*lolx*

所以你可以进去参观
If you look clearly, it's fake!!

*lolx*

so you can go in to visit
才 10 点就那么的晒
I feel hot!
乱拍一通!
Simply snap picture
壁画~
Wall drawing
HAHA 的学校??
The school in here are cute~~
不起眼的走廊~

(我到的地方都没人勒!!)


This corner no people will come~
这条小巷就是我遇见好心人请我喝果汁的地方~

(因为乱拍照,突然有位姐姐叫着我们然后给了两袋果汁)


We found this small place where we meet the "O Ni" that treat us Fruit Juice
跆拳道的主人~ 讲了很多话,但一句都听不懂

*有点不好意识,我的韩语水平只会几句罢了*


The old lady talk alot korean to me, but I dont understand at all. Just know she is friendly.
有些地方也能做运动, 打坐
Found some sport place~
小小的小巷会有些可爱的壁画
Some small alley have some cute wall painting.
来到其中一个住家天台~
Come to people's house ~
看到很多呼拉圈, 就去玩玩~

*呵呵*


Play with their hulla hop~

*hehe*
墙上也有很多人留下痕迹
Many people leave their massage
到天台看风景!
Snap photo time
和刚刚的风景完全不同
The view is different with just now
这里的地图~
The Map
Cheon Deok Su~
Let go to see Alley Project!
这条小巷很多东西看哦~ 也很多人
Many book in the Alley project
从某个角落拍的
Snap the picture in one of the alley
有些地方还有给你拍照哦~ 不过这里很多地方拍照都要排队!!
Some place snap photo need to line up, because these place near entrance so, quite many people at here
寂寞的人~
Lonely people!
This character quite famous.
这件咖啡厅很特别~
This cafe quite cute~ I like it!
要爬上吗??
Wanna have mountain walk?
上去看风景咯!!
It's time to go Observatory
路上的设计也不错!
The design at here is cute~
你在某个角落可找到黑暗的地方, 要很留意
While you walking up, make sure you find all the place that can go in. coz you can found this dark place at one of the small entrance.
另一个天台的风景
Another different view~
西瓜冰淇淋! 好吃
Before going back~ and it's hot~ buy some watermelon ice cream to eat~

*nice*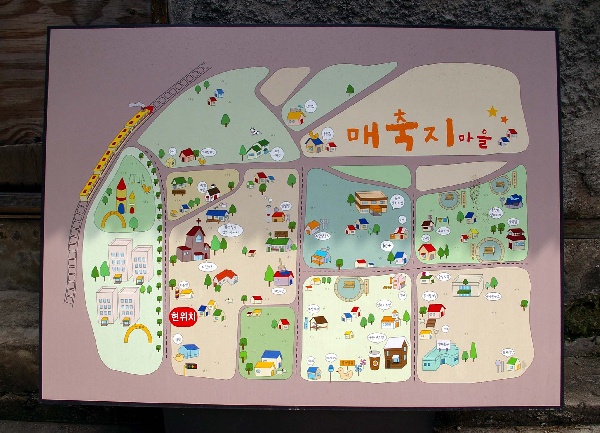 这里的完整地图
The full map here
走完了整甘川文化村,觉得要像我这样反方向走. 因为入口好多人!! 拍照什么的,都要排队, 反方向走就不用~ 很多地方都没有人! 还到一些小巷去看看,认识这里的居民,聊聊手语
*呵呵*