由于本人没什么喜欢多人的地方, 所以来到济州岛就选了个没这么多游客会来的地方, 那就是牛岛. 牛岛的风景很美~ 没有后悔选择了这里,虽然车程有点久. 从我的宿舍"搭地" 到巴士站(5 Min)在搭 701 号巴士到城山港 (一小时半)转达渡轮到牛岛 (15 Min).
Udo Island resonates with beautiful nature. The island was given its name because the contour of the land looks like a recumbent cow. I choose here because here less people come~ and the view here is nice too. It did not disappointed me although the travel time is longer.
牛岛只是个小岛, 把整个岛走完也只有60KM. 如果骑脚车快,环岛才 2小时, 如果骑脚车慢,也才 3 小时罢了~ 所以建议可以来牛岛半日游~
Udo is just a small island with only 60km for the Island. If you ride the bike fast, 2 hour can finished, if slow also need 3 hours only finished. So I recommend you can have half day to travel here.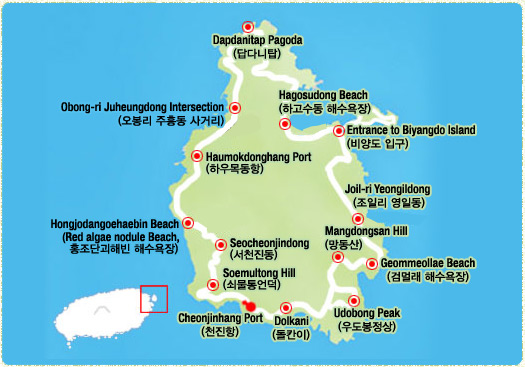 Cheonjinhang Port (천진항) → Soemultong Hill (쇠물통 언덕) → Seocheonjindong (서천진동) → Hongjodangoehaebin Beach (Red algae nodule Beach, 홍조단괴해빈 해수욕장) → Haumokdonghang Port (하우목동항) → Obong-ri Juheungdong Intersection (오봉리 주흥동 사거리) → Dapdanitap Pagoda (답다니탑) → Hagosudong Beach (하고수동 해수욕장) → Entrance to Biyangdo Island (비양도 입구) – Joil-ri Yeongildong (조일리 영일동) → Geommeollae Beach(검멀래 해수욕장) → Mangdongsan Hill (망동산) → Poppy Habitation (꽃양귀비 군락지) → Udobong Peak 우도봉정상 → Dolkani (돌칸이) → Cheonjinhang Port (천진항)
巴士在这里停
The No. 701 Bus will stop you at

Seongsan Port and you need to walk to the port
然后走路到码头
Walking to the port, I see two lovely couple~
这里就是城山港码头
Here is the port, you need to buy the ticket at here
整个济州岛的地图. 如果你要买票, 你必须先拿两张纸,填你的名字,年龄, 电话等. 一张是给来的, 一张是给回的.
Before you buy the ticket, you can take two paper and write you detail (name, age, tel). Because, they need to collect the paper when you go to the ferry, one is go trip, another is back trip.
买好票后, 跟着路牌走
After buy ticket, just follow the arrow.
可以看到很多人哦~
and you can see many people lining up, just follow
有点像我坐的 Penang Ferry
Got penang ferry feel~~~

lolx
唯一不一样的是它有休息室
The different between Penang ferry and Udo ferry is Udo ferry have living area~ which many people can have chit chat here and there. (Mostly "Ah Ju Mah" favorite)
到时间启程了~
Time to move
灯塔~
Light Tower
到上面吹吹风~
Come up to blow some wind~
风景不错~
The view here not bad~
美
Nice~
虽然看不到我拍什么但我看到海豚~

(幸运!)


Cant see what i Snap~ but I can tell you , I saw dolphin!

(Lucky)
我到啦
I have reach Udo~ "Welcome to Udo Island"
下船了~
The view from ferry at Udo port
我坐的渡轮
This is the Ferry I sit

(Side view)
在码头来几张风景照先
The port here also look nice~
被这里的景色给吸引了!
When come down from the ferry, I have already love this place because it's too nice!
码头全景
Port Panorama~
石头也这么的不一样
The stone
来到牛岛,你能体验各种各样的行程~ 如骑脚车, 3人机车, ATV, 巴士, 驾车等 . 而我选择了骑脚车,因为可以到处停车~*呵呵*. 看到哪里漂亮,骑到一旁,停下来就可. 通常租车店都会限制你时间 3 小时 10000Won
(已经很久了,因为很多两个小时环岛)
. 然而,我是那种一直要拍照的人,所以知道自己会花比较长的时间,就跟老板坳到4 小时
(坳到满久以下才坳到
)~
There is many activity you can travel in Udo island. Such as ATV, bicycle, 3 person motor, bus and car. For me I choose to take bicycle because I can stop at any where I like. Normally at Udo Island, the bicycle rental will offer you 3 hour 10000 Won
(Consider enough time for you to cycle whole island.)
But I know my style in travelling, so I ask the boss to give me 4 hour 10000 Won. and The boss is ok with eat.
然后走到这间来租脚车~ 因为这里有很Q的脚车, 老板本来给10000 Won 三小时, 给我硬坳到四小时 10000 Won. 老板还给地图~
I rent my bicycle here, because I saw they have a cute bike~~ with 4 hour 10000Won. The boss also give us map and teach us how to cycle.
这就是我所谓的可爱脚车
This is the Cute bike I say, Mickey BIKE~~~ <3
跟着地图 趴趴走
Let's start cycling, and follow the map~
到处看看
The view along the way
一路都是沿海骑~
Cycling along the sea~~~
肚子饿了, 停下来吃拉面
Come to Rameon Shop for our lunch.
我的海鲜拉面~6000 Won
My Sea food Rameon~ 6000 Won
还有这种三人 Motor 车
Continue our Journey, This is the 3 person Motor
不过本人还是喜欢脚踏车~虽然有点远~
My Bike and I
停在某处休息下
Stop at somewhere to have some rest and picture.
Because we come to Udo on autumn time, the weather is not hot~ windy~cold~ but need to put some sunburn oil~ to avoid sunburn.
小巷
The inner road
又到另一个港口了
Another Port
停下来看孤单帅哥自拍
Saw a leng zai selfie~

(wanna ask him can i help~ lolx)
这支东西不是自然的哦, 我看到 工作人员把它插上的
This is not natural~ i saw a worker put it up.
我在台湾看不到, 在韩国看到
I have miss this love at Taiwan, but found it at Korea
灯塔
Light House
远远看到海边了
Going to the Beach~
珊瑚沙海水浴场
Hagosudong Beach
玩下沙
Play with sand~
本来打算在这里喝茶的, 但失望的出来, 因为还没有开门
Too bad, I come too early. The shop haven open!
不过这里的设计我喜欢!老板和老板娘的打扮也很 ROCK!
I like this place so much~ the design is very yeng! The boss wear also vry ROCK!
没有的好喝茶, 就拍照留恋咯!
Cant eat or drink at here, only can take pic

*Sad*
看到了牛岛峰
Udobong Peak
岛上名宿?
Homestay?
quite nice~
UDO ISLAND is a nice place~ Next time I will be back~ and I plan to take a day tour in here! with climbing the mountain and the cafe! MUST GO!
RATE : 10/10
营业时间 Open Hours : 24 hours
渡轮票价 Entrance Fee : 5500 Won (来回 Round Trip)
租脚车费用 Bike Rental : 10000 Won (4 hour)